Welcome to The Musk Newsletter - Issue 007.
Here I reflect upon the previous week and possibly share an article I read, a podcast I listened to, a video I watched, a photo I shot along with my thoughts and commentaries.
Let us start with the seventh issue.
Week 1 (03/01/2022 - 09/01/2022)
Welcome back to the newsletter. I took two weeks off from publishing for no reason. Just felt like it. Now, I'm back.
I have seen a lot of posts on 2021 reflections, resolutions, things I want to do in 2022 etc. I really enjoyed reading them and felt inspired to start a few things of my own in 2022. As of now, I'm still in the process of putting together a list of personal projects to embark and below are a few I'm seriously considering:
Books for Life: A Reading Project for 2022. Targeted to read 25 books.
Start a microcast.
Post one photo a day.
Write one Storyworthy moment in my One Sentence Journal.
Learn Investing & share my learnings on a blog.
Fully deploy GTD methodology.
Tweak formatting & layout of The Musk Newsletter.
Reflections
I have been reading David Allen's Making It All Work. He talks about how people skip clarifying the desired outcomes and the next physical action required to move toward the desired outcome. And, wonder why apps, personal organisers, productivity hacks etc do not work. David argues once people start to incorporate this thinking process when stuff shows up then any tool will work for you because you have a clearly defined outcome and know exactly what next physical action to take to move towards the outcome.
Favourites of the Week
To Listen: An excellent interview of Seth Godin on The Knowledge Project podcast.
To Read: I really enjoyed reading the Reflections section of Dino's journal entry. We are definitely distracted from asking the most important "WHY" questions of life.
To Watch: How social media & notifications are manipulating our neural pathways.
Photo of the Week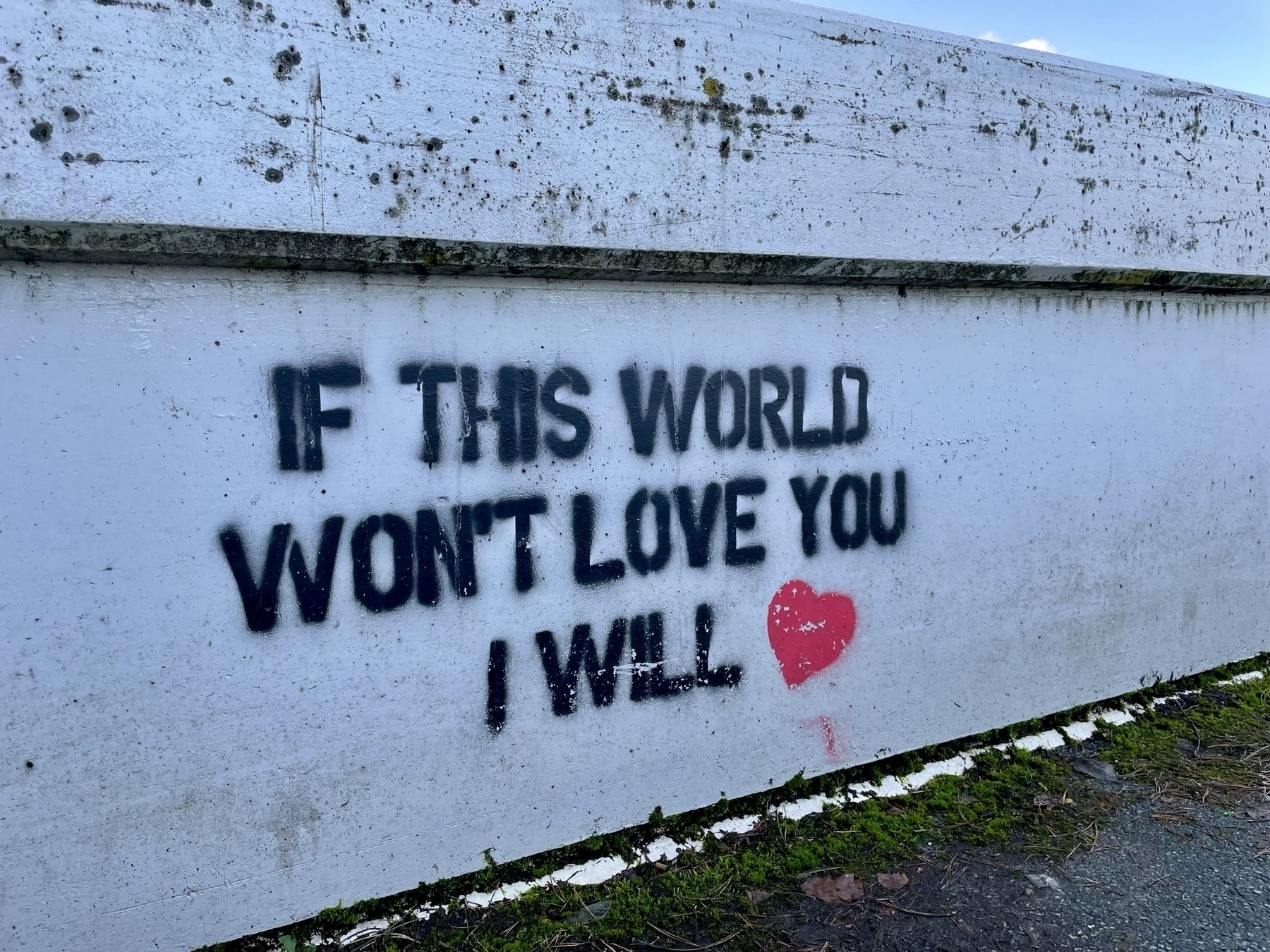 A graffiti of reassurance. Love is all we need.
Quote of the Week
If you are stuck in a financial rut, to gain wealth, you must make changes that are outside your comfort zone.
From Income And Wealth From Self-Directed Investing by Ian MacDonald.
One More Thing
If you have the opportunity to get vaccinated, please do!
Thanks very much for reading The Musk Newsletter - Issue 007.
✴️ Also on Micro.blog